Print book
About Rotary
| | |
| --- | --- |
| Printed by: | Guest user |
| Date: | Sunday, 4 December 2022, 7:09 AM |
1. What is Rotary?
Rotary is an international service organisation whose purpose is to bring together people in order to provide humanitarian service and to advance goodwill and peace around the world. It is a non-political and non-religious organisation open to all. Adapted for Wikipedia accessed 9 June 2021.

So what is Rotary?
2. History of Rotary
Rotary started with the vision of one man — Paul Harris. The Chicago attorney formed the Rotary Club of Chicago on 23 February 1905, so professionals with diverse backgrounds could exchange ideas and form meaningful, lifelong friendships.
Over time, Rotary's reach and vision gradually extended to humanitarian service. Members have a long track record of addressing challenges in their communities and around the world. "Whatever Rotary may mean to us, to the world it will be known by the results it achieves", Paul Harris Rotary founder.
Watch the following video to find out a little more about the history of Rotary
To find out more go to My Rotary. Please note you need to be logged into MyRotary.

3. Rotary's guiding principles
For more than 100 years, Rotary's guiding principles have been the foundation upon which its values and tradition stand. The Four-Way Test, Object of Rotary, and the Avenues of Service express our commitment to service, fellowship, diversity, integrity and leadership.
3.1. Object of Rotary
This is the object of Rotary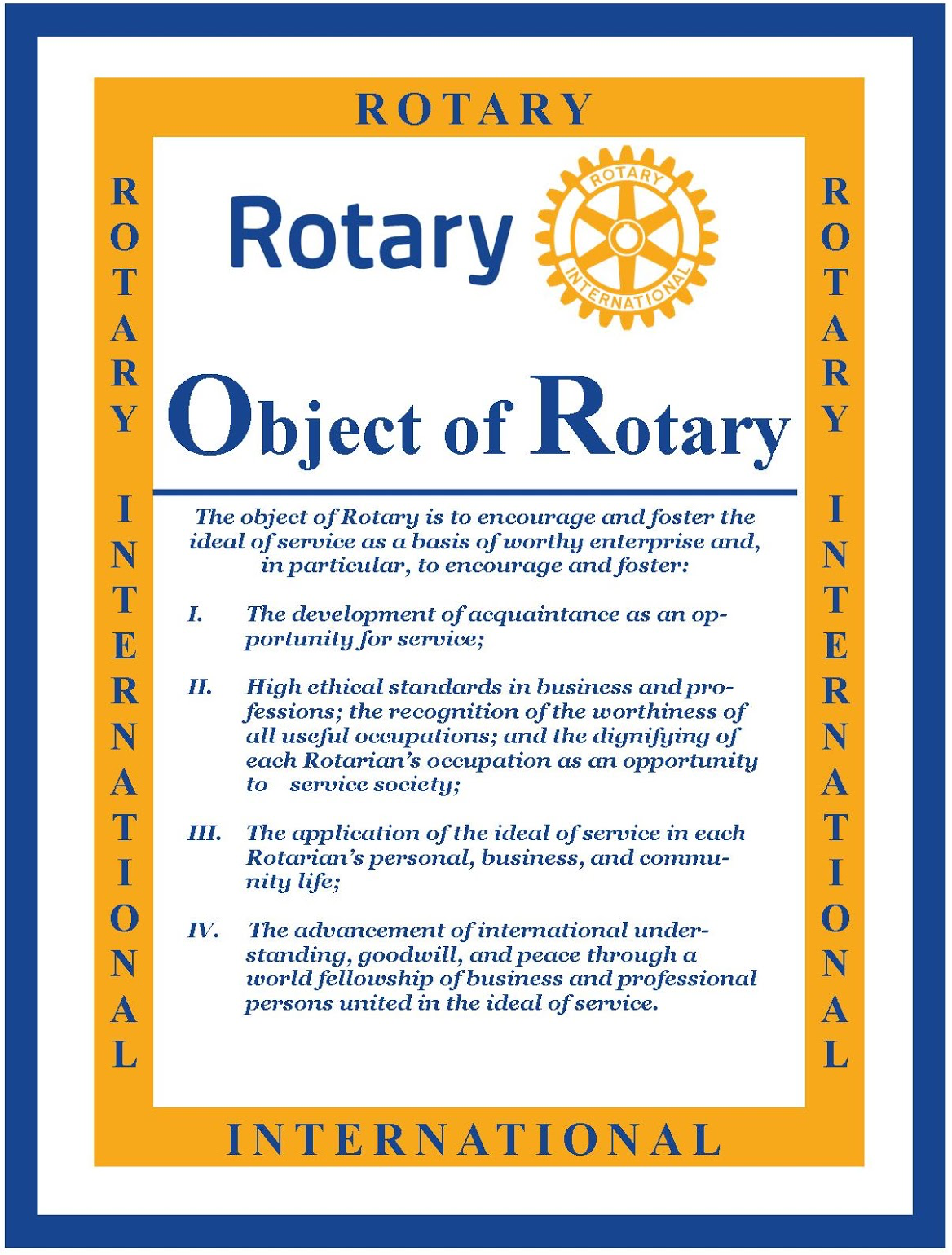 3.2. Rotary's Core Values
The world today is not the same as it was when Rotary was founded in 1905. Demographics have shifted, the pace of change has accelerated, and technology has created new opportunities for connection and service. What hasn't changed is the need for the values that define Rotary.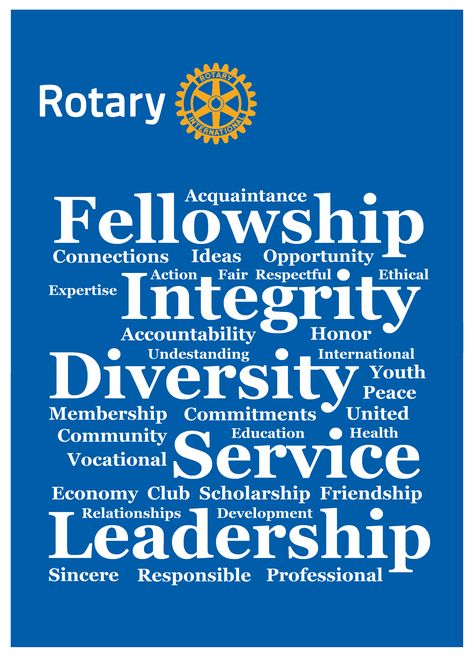 By honouring our past and embracing our future, we can evolve and keep Rotary not only relevant, but thriving.

3.3. Rotary's Vision Statement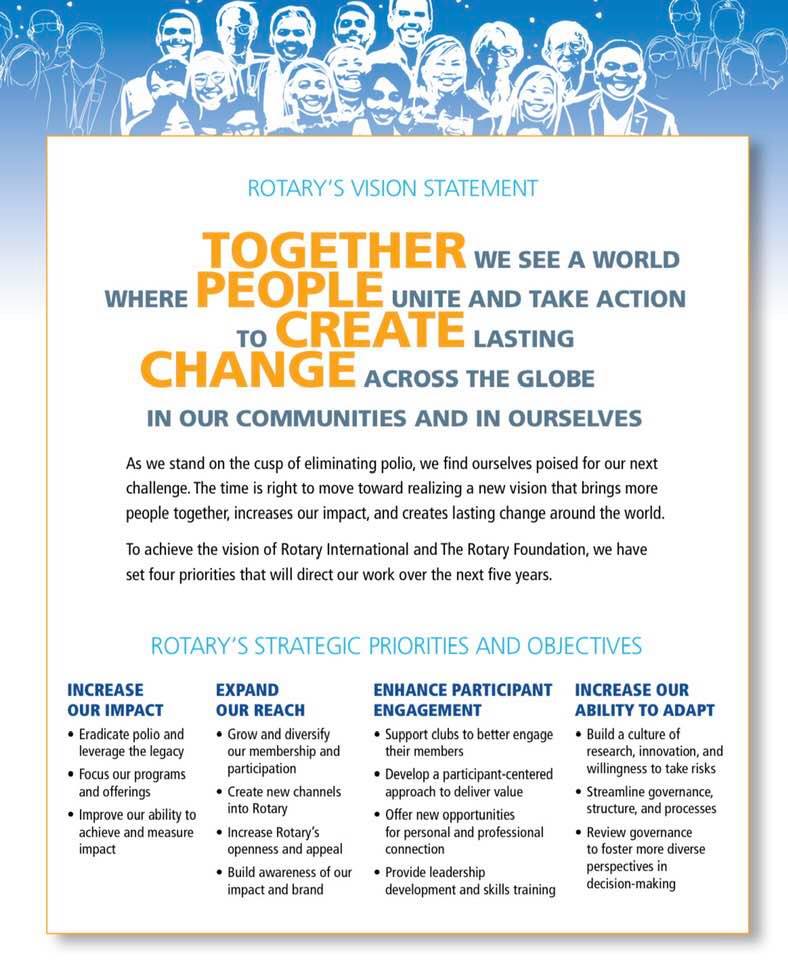 3.4. Four Way Test
When making decisions as a Rotarian, it is often helpful to apply the Four-Way-Test. It may help you to make the right decision.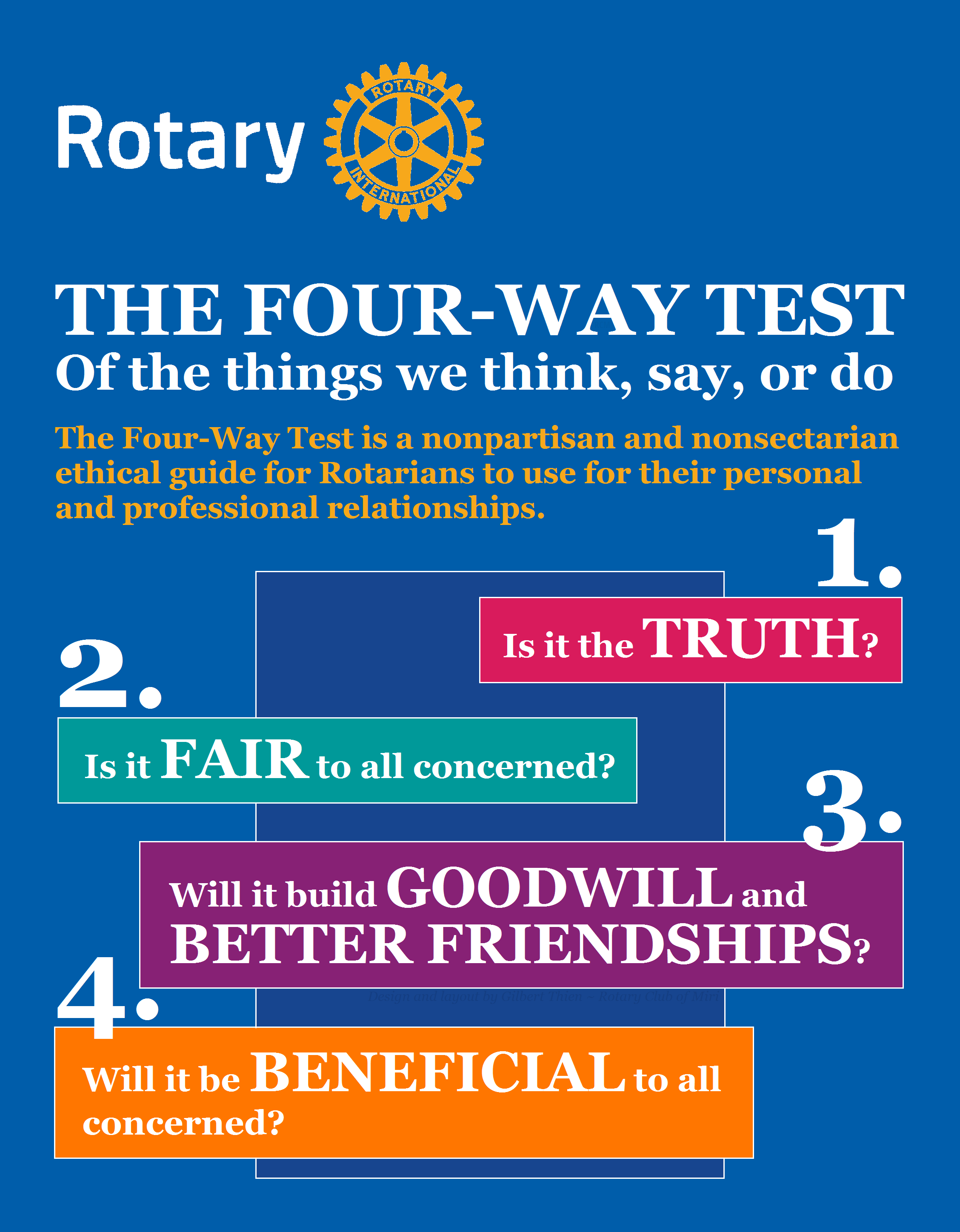 3.5. Avenues of service and Rotary projects
There are five Avenues of Service, which are the foundation of club activity.
Club Service focuses on making clubs strong. A thriving club is anchored by strong relationships and an active membership development plan.

Vocational Service calls on all Rotarians to work with integrity and contribute their expertise to the problems and needs of society.

Community Service encourages every Rotarian to find ways to improve the quality of life of people in their communities and to serve the public interest.

International Service exemplifies our global reach in promoting peace and understanding. We support this avenue by sponsoring or volunteering on international projects, using local member expertise to build long-term partnerships for sustainable projects, seeking service partners abroad,

and more.

New Generation Service works to engage youth and young adults in leadership roles.

3.6. Areas of focus
We direct our efforts to enhance our local and global impact. Our most successful and sustainable projects and activities tend to fall within the following areas:

Promoting peace




Fighting disease




Providing clean water




Saving mothers and children




Supporting education




Growing local economies




Protecting the environment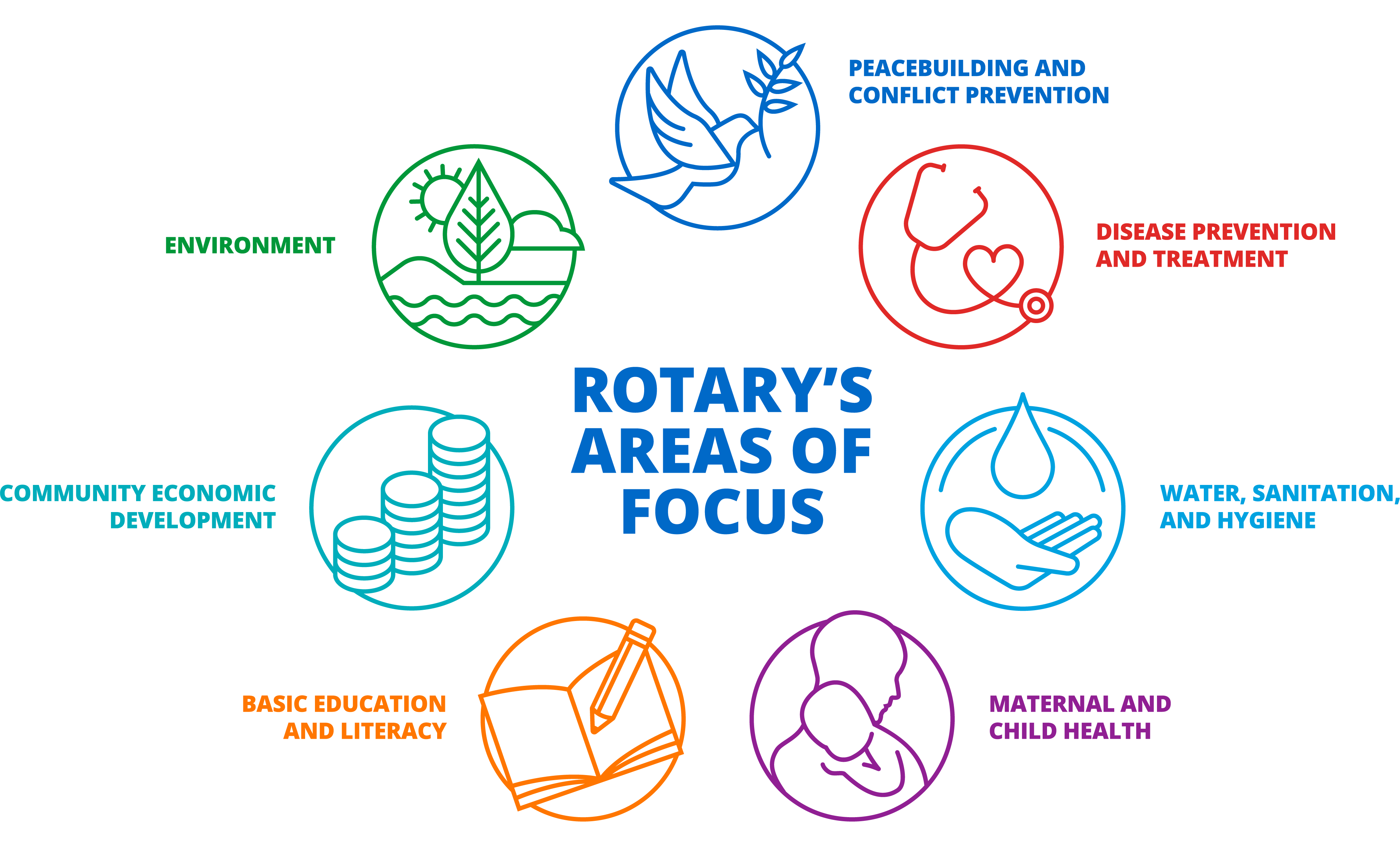 4. Structure of Rotary
Rotary International is made up of members, clubs, districts and zones.
Rotary Members
There are more than 1.2 million Rotary club members, or Rotarians, around the world. Your potential to do good in your community as a Rotarian is far greater than it was before you joined. You'll have the privilege of working with other professionals and the opportunity to make a difference in the lives of others by bringing together your expertise, skills, and resources.
Clubs
The club is the most important component of the Rotary Structure. There are over 35,000 Rotary Clubs in more than 220 countries and geographical areas. Rotary clubs are autonomous and are very varied.
Rotary clubs hold regular meetings where their members gather to socialise and to discuss their current projects, other Rotary matters, and professional topics. While most clubs meet in person, some clubs meet primarily online or have a combination of in-person and online meetings.
Rotary is both apolitical and nonreligious, and Rotary clubs are encouraged to create an inclusive environment for all club members at their meetings. Meetings can be formal or informal and can include food and drinks, speakers, an open forum for discussion, or group activities. The more you participate in your club's meetings and activities, the better overall experience you will have as a member.
Districts and Zones
Rotary clubs are grouped into districts. District governors serve an important role in Rotary. They're nominated by clubs in their districts for their leadership skills, Rotary experience, and dedication to service. They are trained extensively both in their regions and all together at the International Assembly. District governors serve a one-year term, leading a team of assistant governors and district committees to support and strengthen clubs and motivate them to carry out service projects. Governors visit each club in the district during the year, oversee the development of new clubs, and plan the district conference and other special events. Districts are organised into regional zones, each led by a team of regional leaders. Finally, your Rotary club belongs to the global association, Rotary International (RI), led by the RI president and the RI Board of Directors.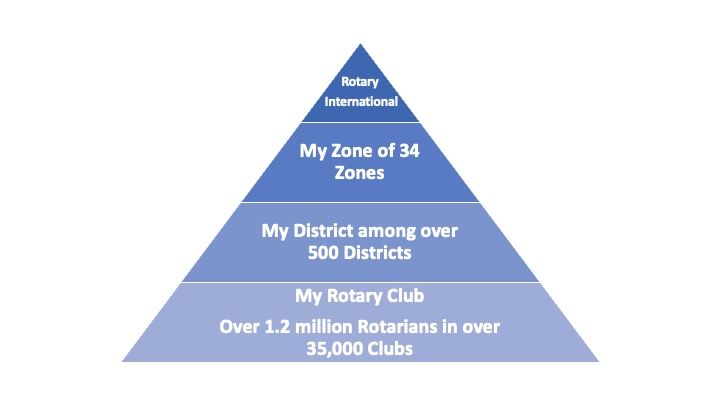 5. Rotary District 9675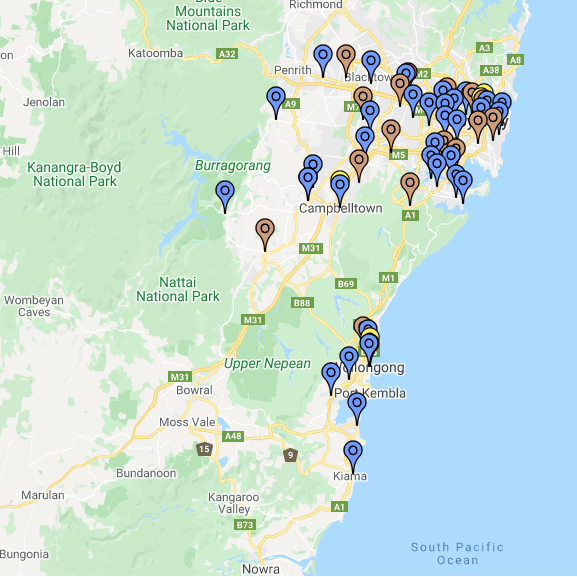 Rotary District 9675 runs from Sydney (south side of the Harbour Bridge) out to Picton in the west and down to Kiama in the south.
There are 58 clubs and 1289 active members.
The District Leadership Team for 2021-22 consists of the following groups:
District leadership and governance




Assistant governors




Committee of Association (COTA)




Governance committee




District appointments




District directors
5.1. Organisation Chart
The following organisational chart will give you a very good overview of the District Leadership Team and who is responsible for the difference roles and functions. To contact anyone in the team go the MyDistrict and navigate to Leadership Team. Please note: you need to be logged in to the site. Download a copy.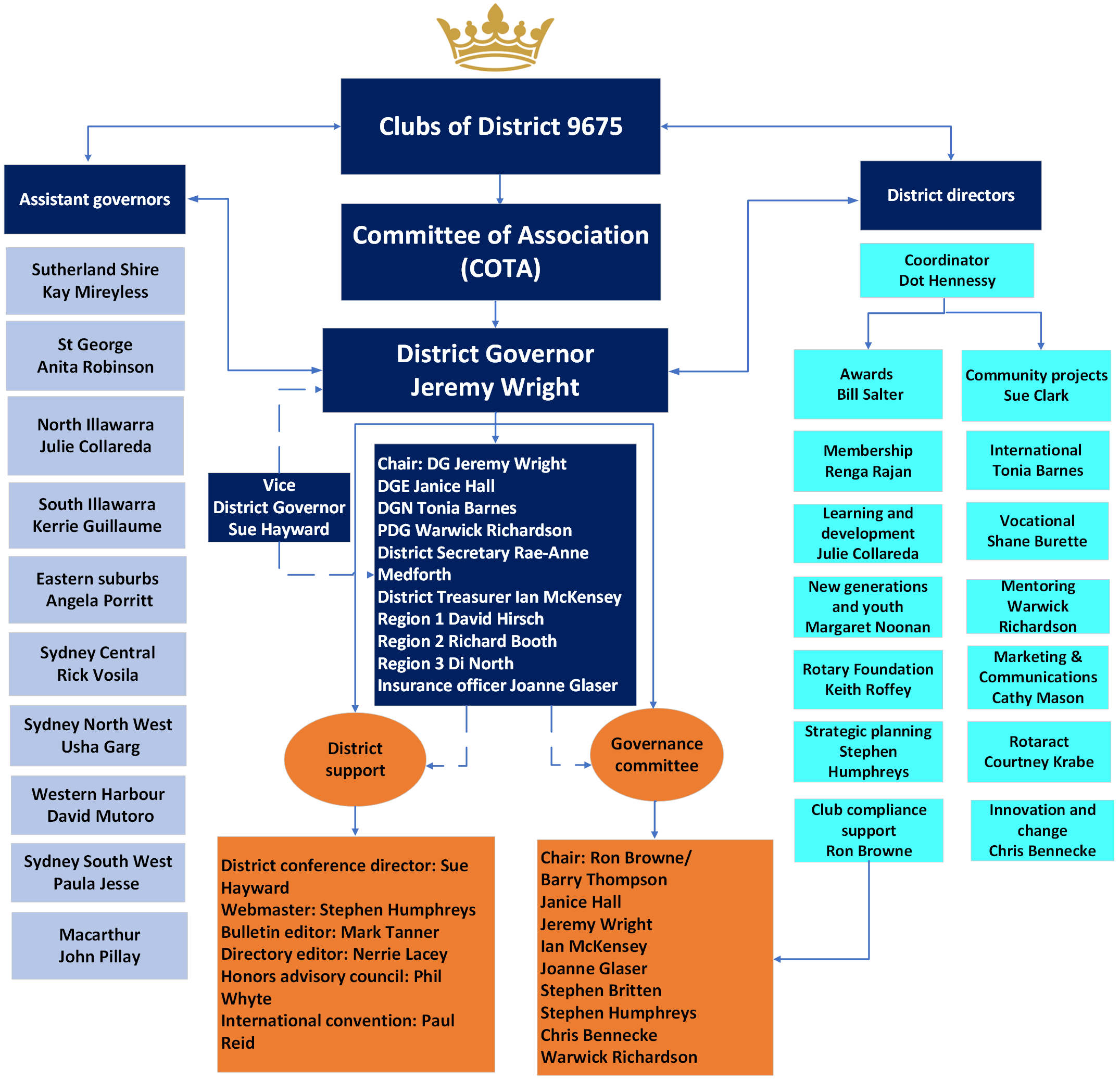 6. Rotary Clubs
The club is the cornerstone of Rotary, where the most meaningful work is carried out. All effective Rotary clubs are responsible for four key elements: sustaining or increasing their membership base, participating in service projects that benefit their own community and those in other countries, supporting The Rotary Foundation of Rotary International financially and through program participation, and developing leaders capable of serving in Rotary beyond the club level.
Rotary Clubs have a Board which is elected at the Annual General Meeting (AGM). The AGM is usually held in November or December. Each year the president is replaced, often the other positions are retained over a period of time. The reason Rotary International replaces leaders annually is to encourage leadership opportunities and enrichment with new ideas and directions.
The Board positions are different across clubs but usually consist of:
President
President Elect
Secretary
Treasurer
Vice-President (who may take the position of president if the president can no longer function in the role or may be away for personal reasons).
Directors
Rotary clubs:
are autonomous

have a Constitution and ByLaws which govern how they operate

have meeting formats which vary widely across clubs.
Find out more about your Rotary Club. We will be asking some questions at the facilitated session.

6.1. Other clubs affiliated with Rotary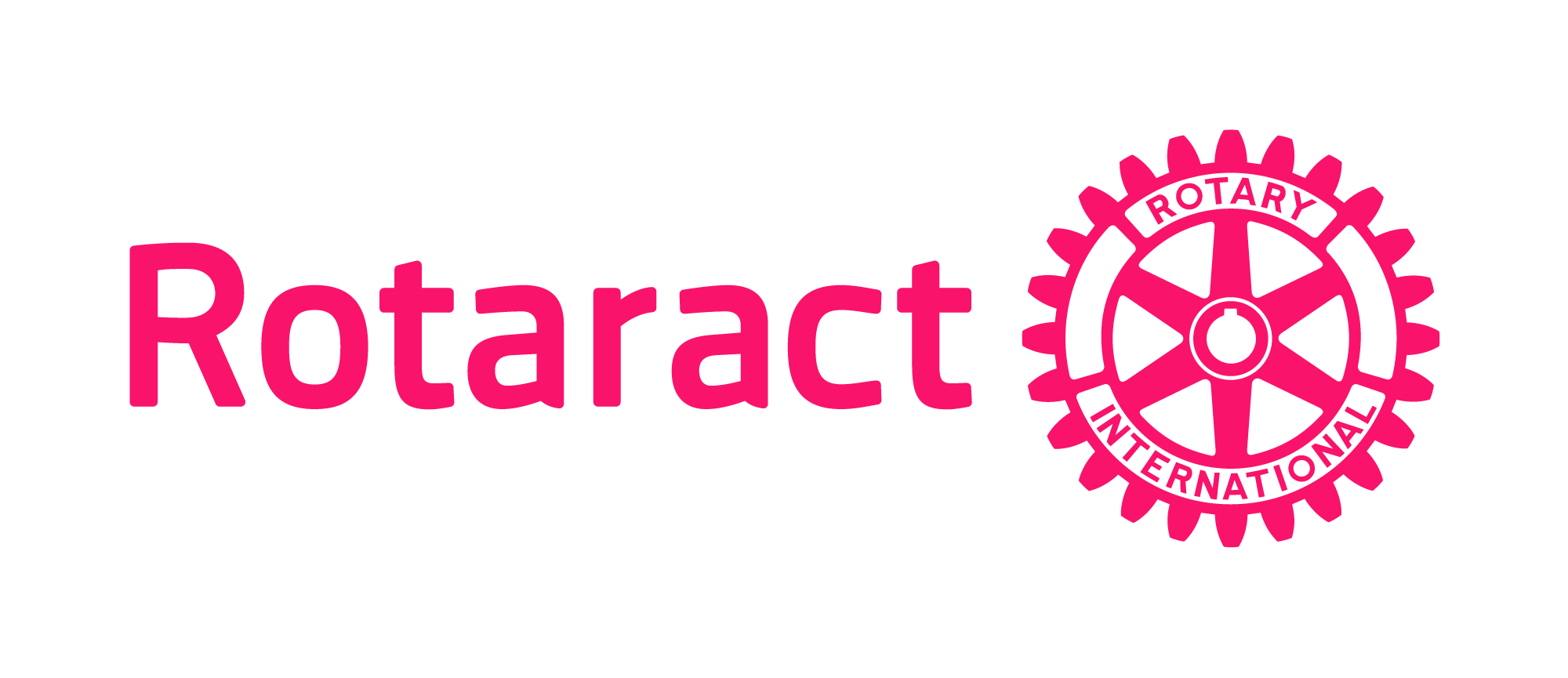 Rotaract
Rotaractors are young people aged 18 to 30 years of age and their clubs are affiliated to a Rotary Club. There are 162,330 Rotaractors in 9807 clubs in 532 districts in 184 countries.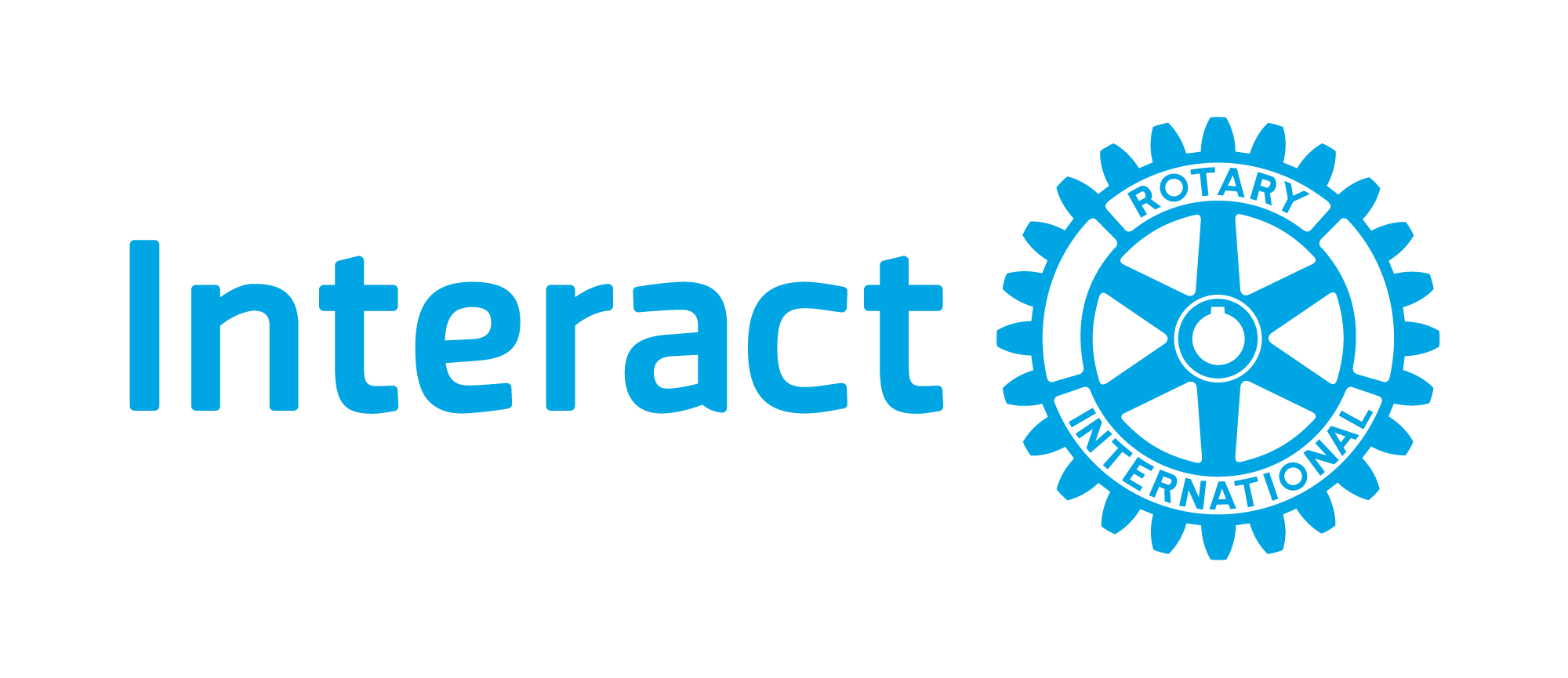 Interact
Interactors are usual based in high schools and sponsored by local Rotary Club. There are 563,362 members, 24,494 clubs in 498 districts in 161 countries.
Probus
Probus was formed by Rotary for retired Rotarians and it is all about friendship, fellowship and fun. Probus is sponsored by a local Rotary Club. There are over 125,000 retirees across Australia and New Zealand.
6.2. Different types of clubs
Traditional Rotary Club
Professionals and aspiring leaders who meet regularly for service, connections, and personal growth. People looking for connections, service opportunities, and traditions.
Satellite Club
A Rotary club sponsored by a traditional club but with its own meetings, projects, bylaws, and board. Those who want a club experience or meeting format or time other than what's offered by the traditional clubs in the area
E-Club
A club that primarily meets online. People who travel frequently, whose schedules make it difficult to meet in person, or who prefer an online experience.
Passport Club
A Rotary club that allows members to attend other Rotary club meetings as long as they attend a specified number of meetings in their own club each year. People who travel frequently, or those who enjoy trying a variety of club experiences and meeting lots of new people.
Corporate Club
A club whose members (or most of them) work for the same employer. Employees of an organisation who want to come together to do good in their community.
Cause-Based Club
A club whose members are passionate about a particular cause and focus their service efforts in that area. People who want to connect with others while addressing a particular set of problems.
Alumni-Based Club
A club whose members (or most of them) are former Rotary or Rotary Foundation program participants. People who have participated in Rotary outside of a club.